Real Empathy, Real solutions
4 Keys to Unlocking the Power of Empathy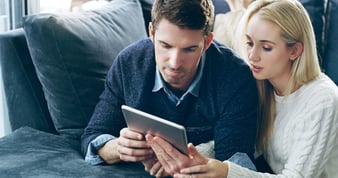 We've all been there. Your spouse or friend is distraught because they got overlooked for a promotion. Or perhaps they had a rough day with the kids.
So, you come to the rescue. You tell them not to worry, there's a better opportunity just around the corner. Or cheer up, tomorrow will be easier. But that just seems to make them more upset.
What just happened?
Expressing compassionate empathy is something almost all of us think we know how to do, but in reality, our good intentions fall short.
Do you sometimes feel clueless when it comes to handling another person's emotions? When your child is crying, do you ever just want them to stop? Are you wanting to feel and respond more lovingly to those in your life? Or do your relationships feel a little unsatisfying, like they're missing true connection. No matter what you're looking for, life is sweeter with greater emotional intelligence and empathy! Discover the 4 Keys to Unlocking the Power of Empathy with this Heartmanity Self-Coaching series.
In this workbook you will learn:
The difference between feeling stoppers and empathy

How to create a safe and authentic space for others to shift their emotions easily

The do's and don'ts of helping people feel understood

Why feeling sympathy for someone isn't perceived as loving

The keys to empathetic listening, including how to ask questions when you feel stuck


Real Empathy, Real Solutions will start you off on an easy-to-learn path towards making empathy as second nature as driving a car! Whether you are skilled in people skills or not, this workbook will help to build and increase your confidence in all relationships both at work and home. No matter the job site or the relationship, empathy is a key for greater success.
Comfort hurt feelings, help your co-worker feel heard, or fine-tune your most important relationships! Learn through interactive worksheets and practice exercises to help you integrate the concepts at your pace and in the privacy of your own home. You'll hone your abilities without the pressure of someone's feelings staring you down!
Take Advantage of Our Introductory Offer!
Because we're so passionate about the power of empathy, we are offering our new downloadable workbook at an introductory price of $12.95!

We've seen the magic of healing, increased love and connection through empathy and understanding. Your turn.
Or if you prefer, check out our blog on "The Three Kinds of Empathy: Emotional, Cognitive, and Compassionate."
Ready to gain new skills and deep dive into empathy? Act now and begin to reap the benefits. Let's go!