Real Empathy, Real Solutions
4 Keys to Unlocking the Power of Empathy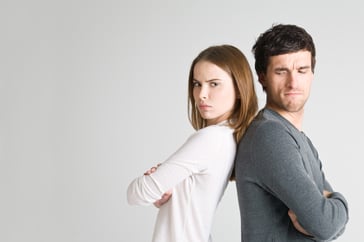 Emotions are running high these days. We need emotional intelligence to navigate tough situations in ourselves and our relationships.
We need empathy and compassion more than ever! For example, this couple needs to learn how to get past their differences and gain understanding.
We've all been there! Stuck and you don't know how to get out of a headlock.
Another scenario: Your partner comes home and you're super excited to see them!... but they're in a mood and want to be left alone! What then? You try to cheer them up, but it doesn't help. And sometimes, they even get more upset.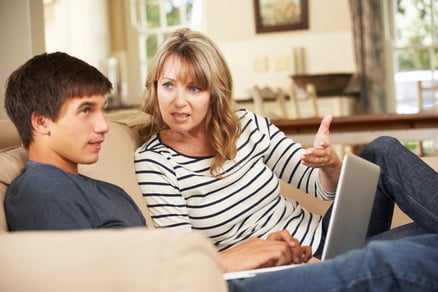 Or picture this:
You're a parent of a teenager and they are completely shutting you out. Anything you try to do is met with disrespect and disgust.
The quickest way out of a battle of wills with teens (or anyone!) is by helping them feel heard and understood.
How often have you walked away feeling hopeless or shut down yourself?
3 different types of empathy for different relationships and situations.
Expressing empathy is something most of us think we know how to do, but our efforts fall short. Many times when we think we're empathizing, we're actually using feeling stoppers.
ASK YOURSELF:
Do you sometimes feel clueless when it comes to handling another person's emotions?

When your child is crying, do you ever get upset yourself and want them just to be happy?

Are you wanting to respond more lovingly to those in your life?

Do your relationships feel unsatisfying like they're missing true connection?

When a person is upset, do you feel responsible to fix it and make them feel better?
No matter what you're looking for, life is easier and more enjoyable with empathy! Empathy gives us a rutter when we're navigating others' emotions. True connection really isn't possible without understanding.
Replace feeling stoppers with empathy!


For about the same price as buying a Starbucks latte, you'll get a life-changing skill and practical guide to learn the essential four keys of empathy. You'll be led step-by-step through each component with Heartmanity's Self-Coaching Guide.
In this downloadable guide (no waiting for delivery from Amazon) you can get it instantly and be able to start learning:
How to NOT take on others' emotions and get overwhelmed


Common feeling stuffers that interfere with true connection


Help others feel heard and understood effectively



Create a safe space for others to shift their emotions easily




The keys to empathetic listening, including ways to take care of yourself, too


Empathy in the workplace is just as critical as in personal relationships! Whether you're a boss, employee, or dealing with customers as an entrepreneur, you'll find empathy to be so valuable that you'll wonder how you managed without it!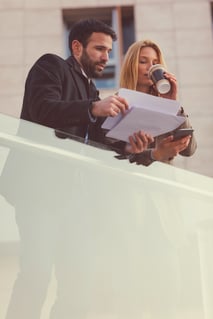 Real Empathy, Real Solutions will start you off on an easy-to-learn guide. And don't let the simplicity fool you; less is more when learning a skill. This guide is distilled down to the essential ingredients. No hours spent reading a book only then to have to try and figure out how to apply the information.
This downloadable product holds the power for you to build critical abilities when you apply yourself to the exercises. Without action, there is no change.
This guide will help build and increase your confidence in all relationships both at work and home. No matter the job site or the relationship, empathy is a key to greater success.
Fine-tune your most important relationships!

Learn through interactive worksheets and practice exercises to integrate the concepts at your pace and in the privacy of your own home.

You'll hone your abilities without the pressure of someone's feelings staring you down!
For more on empathy, read, "The Three Kinds of Empathy: Cognitive, Emotional, and Compassionate."


Take Advantage of Our Affordable Empathy Tool!
Because we're passionate about the power of empathy, we are offering our downloadable product for $8.95. We've seen the magic of healing and increased love and connection through empathy and understanding. One mom wrote us that the guide saved her relationship with her daughter.

Your turn.
Gain new skills.

Act now and begin to reap the benefits.
IMPORTANT NOTE: You will receive a link to download this product; it's not a spiral or bound workbook. But don't be fooled by its simplicity! If you do the exercises and worksheets in earnest and practice the steps as outlined, you will have a strong foundation to master an important aspect of emotional intelligence: empathy.