Advice from an Ex-Pleaser
How to STOP Being a People Pleaser


The skill of saying no is broken down into simple, proven how-to steps and strategies!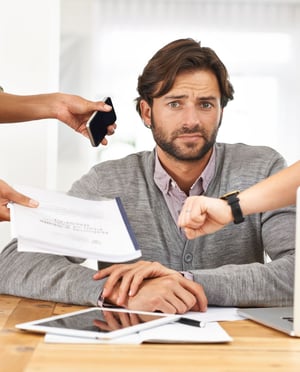 There are SO many demands on everyone's time!
It's challenging—sometimes near impossible—juggling life and achieving a work-life balance.

Life may seem exhilarating or fun if you're good at saying no and setting limits. BUT if you like to please others at your own expense, life can feel like an endless conveyer belt with no time left over for yourself. Every night you drop into bed exhausted with a dozen things left undone.
It can be painful, even scary, breaking up with the habit of people-pleasing. Being a people pleaser is often a way of life. I know firsthand. Even when we KNOW we "should" say no (we're already stressed, worn out, and fighting a cold) or WANT to say no, we agree one more time! Then we regret it later. And in the process of trying to keep everyone happy, we still end up disappointing someone. And no matter how much we do, we still feel guilty for not doing enough! Crazy, right!?



This ebook is for you if:

When you're asked what you do for self-care, you reply, "Self-care, what's that!?"

You rarely, if ever, have time to read a book or have time with friends.

You're the first person people think of when they need a favor.

You're worn out regularly and wonder when it's going to be your turn.

You just don't feel like yourself anymore.

You can't say no and

feel resentment toward others or jealousy for those who have lavish self-care.

And you can't do anything just for yourself unless you're alone—deliciously alone!
...and then you can't decide what to do because there are so many choices!

Hear from one who had results implementing the keys in this e-book:

"This Pleaser e-book really hit home! I had to take a hard look at myself and who I wanted to be versus who I let the world see. I loved that the process is broken down into such manageable steps. Yes, it was a little scary at first applying some of the Key Actions and Strategies for Success mentioned, but I persevered and now, it's becoming the new norm. And the most exciting part is the more I honor my true self, the happier I am creating a ripple effect on those around me. I plan on going back to this information frequently for lasting change." ~Sarah
FINALLY! A practical and compassionate how-to guide developed by an ex-pleaser. Follow these simple steps and apply the strategies, and you WILL find freedom.
Discover How to STOP being a people pleaser with this easy-to-understand method. Gain the ease you've always wanted: to be true to yourself while also letting people know you care. Learn from a person who has been in the trenches and dug her way out.
In this ebook, you will learn:
How to make mental shifts that make saying no a cinch

To calm your self-talk and how to set effective boundaries

Ways to increase your courage, so saying no feels great!

Plan for those difficult people who apply pressure on you to say yes

How to motivate yourself to set limits by keeping what's important to you top of mind

Effective ways to deal with other's displeasure when you do say no

The keys to being authentically YOU while also being respectful to others

Amazing tools to practice without discomfort or negative consequences
How to STOP Being a People Pleaser will help you step-by-step until saying no and setting boundaries will be as easy as giving in! You will build confidence and learn how to say no at home and at work.

"My inner dialogue was self-deprecating and harsh before I worked with Jennifer. Now I treat myself the way I'd treat a dear friend, or even a loving mother would treat a child, and have seen so many benefits from this shift. Goodbye anxiety! Goodbye stress! Hello fun! Hello adaption! Hello acceptance!"​

THIS WILL BE YOU!




Take advantage of this incredible offer!
These methods have been used by clients successfully—they've been proven bullet-proof by the best of people pleasers. We are offering our downloadable ebook for just $12.95! These are the same skills that people have paid hundreds of dollars for in private sessions.
If you're ready to live your passion at work and the life you've always dreamt of, on your terms, and at absolutely no risk to you, snag your copy of Advice from an Ex-People Pleaser today. Let's do this!
​​​
​​​